Nutrition on the Go: Healthy Tips for Business Travelers
We understand the importance of staying healthy while you are out of your normal routine of home. Choosing a temporary apartment offers more than just the benefits we'vementioned before.
One benefit of corporate housing not to be overlooked is the home-like atmosphere that encourages saving money and making healthier meals at your temporary place. Our luxury apartments are equipped with great kitchens that include all the things you need to make you feel at home, keep groceries and make meals that are cheaper, tastier, and healthier.
Read on for some healthy eating tips for business travelers.
Nutrition and Meal Planning Tips
We all know that dining out for every meal can do a number on our budget and our waistline. Corporate housing offers amenities that help you make healthier choices while you travel.
Fully equipped kitchen to prepare easy, healthy lunches and evening meals.
Stock up on healthy snacks to keep in the car or in the office.
Invest in a nice water bottle to carry with you all the time instead of stopping to get a soda. Not only will this save you money in the long run, water is important for maintaining hydration.
Better Choices
Planning ahead to make better choices makes it easier to follow through once you arrive. We know sometimes you can't avoid dining out. Making healthy choices while you go about your busy day isn't as hard as it may seem. Here are some tips to keep in mind.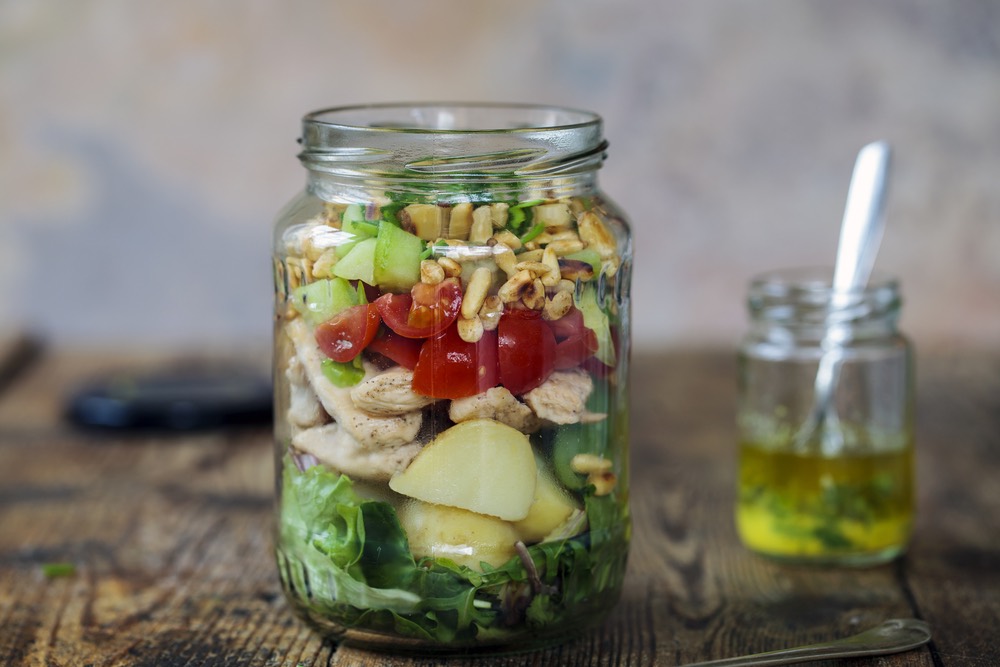 Pack layered salads in Mason jars, with liquids on the bottom. Shake it up and enjoy.


Avoid dining out for evening meals, which can be expensive, or meeting up with friends for drinks, which can lead to staying out too late. Try meeting up for lunch or coffee instead. And you have a fully equipped kitchen...why not invite them over and make a meal for them!


Look for real food, and try to avoid processed options. Nuts, cheese, and fruits are readily available, even if you take a quick stop at a gas station. Don't forget to refill your water bottle or pick one up while you are there.


Think about your nutrition plans, and don't be afraid to ask your server for substitutions. Getting the salad dressing on the side and subbing fruit for fries are easy requests.


Look for items that are prepared in a healthier way. "Grilled," "baked," "steamed," or "roasted," are likely healthier than something labeled "fried."


Finally, we get it. Fast food is cheap and quick, and sometimes even necessary. If you have to stop for fast food, choose the healthiest options you can. Salads, fruit cups, whole grain breads or skipping the bun altogether can help you maintain your nutritional goals while on the go.
Staying in the Washington, DC area soon and looking for temporary accommodations? Let us know how we can help.